I may not be a purist, but I admit to having purist tendencies. Blame it on my mother. When I was growing up, the musical options in our family environment were either Classical or Classical. From drifting off to sleep at night to the sounds of my mom practicing piano, to Christmastime recordings of chorales from St. Martin in the Fields, to Classical music radio in the car—I was most often clueless to the latest pop music trends to which my friends were privy.
In my adult life, I have had the opportunity to explore many genres of music throughout the world. Regularly attending reggae-roots festivals for two years in New Zealand, teaching traditional Andean music to violin students in Cuzco, Peru, and now studying the folk fiddling tradition of Kaustinen; these are amongst the multi-genre experiences I have had. With 14 years of such endeavors, one would think that those purist tendencies would have subsided. But even for (or especially for, one might argue) musicians and artists, changing our ideas about what our preferred mediums "should" be like, or what they "should" represent, can be difficult. Why is that?
Change can be hard. But change can also be exciting. In less than two years, I have moved from the American Midwest to Saint-Étienne, France, then to rural Portugal, after that to Paris, and onto Naples, and finally here, to Kaustinen, Finland. Now that is a lot of change. And oh, boy have there been challenges—some of which seemed impossible at times. But among the seemingly infinite difficulties, I became fluent in French and Portuguese. And I spent 5 months attending classes at Le Musée de l'Homme in Paris, staring directly out my classroom window at an enormous Eiffel Tower 100 meters away. And I lived in a wooden cabin overlooking the Tagus River in the Portuguese woods, where I found myself welcomed into the home of strangers as if I had always belonged. So why are we purists, and often we humans, so afraid of change?
Well, imagine my surprise when I walked into the Kaustinen Folk Arts Centre gift shop my first day and saw the following postcards.
Amongst the plethora of breathtakingly beautiful postcards that recalled a nostalgia for those "good-old-days", complete with black-and-white photos of folk musicians holding acoustic instruments, I was blindsided by a postcard that stood in stark contrast to that romanticized past of a supposedly static society and culture. My first reaction to this was a perplexity as to what the intended meaning of this postcard could possibly be. All I could see was a pixelated image of a cartoon-like character playing the violin. Nearby I saw a flyer with a similar image and the phrase Pelimanni 8-bit. What's going on here??
I said to myself…I thought I came here to study folk music…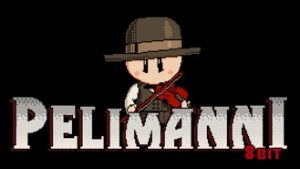 When I eventually overheard Pelimanni 8-bit mentioned in conversation, I inquired further, and found out that: Kaustinen had turned the folk fiddling tradition into a video game!?!

And sure enough. Last year, published by the Folk Music Insititute[1], Pelimanni 8-bit became a free app available for download on your preferred medium of smart phone. "Pelimanni" is a word that is used an awful lot around these parts of Finland. In Finnish, Pelimanni means "Folk Musician" and it was and still often is associated with folk fiddlers. "8-bit" refers to the video game era that was launched in the early 80's, bringing with it Super Mario Bros, for example. Combine that with the image on the front of the postcard and you might be able to come up with a couple ideas as to what this app is all about.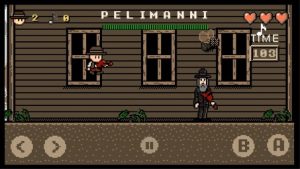 This is a video game about Finnish folk music traditions, specifically of the fiddling variety. There are various levels through which you can, if you are a savvier gamer than I, work your way, moving forward in the video game world as you advance ever-closer towards the title of Master Pelimanni (Master Folk Fiddler), a title actually granted to the best players each year at the Folk Music Festival here in Kaustinen. As Amanda Kauranne explains in her article about the game in Finnish Music Quarterly[2], in each new level you are introduced to a traditional tune. As the article also points out, these traditional tunes are arranged by Antti Janka-Murros in a style that Kauranne terms "Nintendo-influenced". Nintendo-influenced, traditional tunes? Does that not lead the purists among us to the following question: doesn't this kind of change mean that these tunes no longer get to be called "traditional"?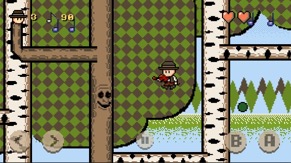 Last week I was discussing the game with a colleague here at the Folk Music Institute, and he told me that during the Folk Music Festival last year, the creators of the game, Jimmy Träskelin and Antti Janka-Murros put on a live performance of Pelimanni 8-bit for the public here at the Folk Arts Centre. While Träskelin worked through the levels of the game on a projection screen, simultaneously giving the audience tips about the trickier parts of each level, Janka-Murros played his Nintendo-influenced arrangements of the traditional tunes live on an electronic keyboard, attempting to maintain the pace of Träskelin and his fiddling character (whose name is Friiti).
There were about 50 attendees at the live performance of Pelimanni 8-bit, including adolescents, teens, and their respective parents, most of whom recalled the 8-bit style of video game from their own childhood. This project had reached one of the harder target populations in the folk music world: teenagers. As Träsklein himself asserts, the folk music here is approachable, all while serving and representing the folk music genre.
I downloaded the game myself a few days ago and played through a couple of levels. It is, seriously, too good. Finding myself humming the tunes from the game a while after I had put my iPhone away, I realized that I must I left my purist tendencies back in the gift shop with that postcard. I am reminded, retrospectively, that change can be great—and that maybe it is the only way to have a sense of continuity between past, present and future.
So, what do I think about Pelimanni 8-bit? I think you should try it yourself. You might just find yourself whistling Finnish folk tunes throughout the day tomorrow. And what's wrong with that?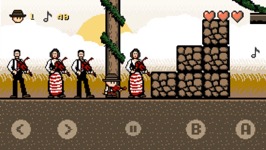 Suzanne Wedeking
[1] http://www.kansanmusiikki-instituutti.fi/183-2/
[2] https://fmq.fi/articles/pelimanni-meets-pixels