"So, why are you here?" I've been asked a time or three over this past week. I suppose it is a reasonable question to pose to a recently arrived 31-year old American woman who doesn't speak a word of Finnish. After all, Kaustinen is a village where, well, there aren't too many foreigners. And it's not exactly on the well-beaten track either. Only after a 7-hour bus ride from Helsinki did I arrive to this village in Central Ostrobothnia, where, as far as I can tell, the city center consists of little more than a roundabout.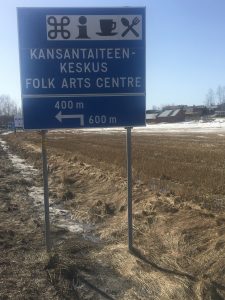 Let me be clear—I've had the warmest welcome. My awkward supermarket encounters are proof to that. Exhibiting an impressive lack of knowledge of the Finnish language, I have been forced, many a times already, to admit that "I'm sorry, I don't speak Finnish" when the cashier is simply telling me "The total is €12.65". I don't actually need to say anything other than the sole word I know in Finnish: "Kiitos". However, as far as I am concerned, she might as well be reciting a line out of the Kalevala, or at least telling me that that I, once again, forgot to weigh my bananas in the fruit aisle. But here in Kaustinen, the response to my Finnish ignorance has most often been welcomed with a smile and a shy yet dutiful attempt to communicate whatever I might need to know in a rusty but fluent English.
So, why AM I here? If I had any doubts the first few days, during which I reveled in the stunning silence and tranquility of Kaustinen in comparison to that of Naples, from where I had just arrived, those doubts were quickly abated over the past week. I admit, I had initially wondered to myself if loneliness might soon set in, the weekends and the evenings spent alone in a town where anyone and everyone close to my age seems to be married with at least two children. But, today being Sunday, I can officially say that any concern regarding boredom or isolation has in no way had time to find itself into my Kaustinen experience so far—and the snow is just beginning to melt. They say it only gets better.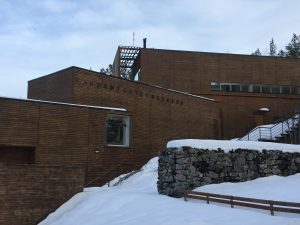 This first week in Kaustinen has kept me busy. Starting my research internship at the Folk Music Institute Monday morning had me exploring the abundant resources both the Institute and the building itself, known as the Folk Arts Center, have to offer. And they really are endless. Add to those resources the people behind them, and you are in for a real treat. Regardless of what aspect of Finnish culture you might be interested in, there is an expert, whether it be in the birthright or the academic sense (or both), that will be more than happy to share their knowledge with you. And whatever they might decide to share is earnest and it is humble. In fact, both culturally and climatically, I don't feel too far from my good, old Midwestern girl roots. Iowa? It's just a few thousand miles away, directly south of the Finnish-American state of Minnesota, land of 10,000 lakes. But the dirty, melting snow and the blue skies of Kaustinen in early April along with local hospitality, ironic humor, and genuine conversation have helped me to settle right in. Now about learning this language…
So, I'm little more than one week in here in Kaustinen and in that time I have: 1) seen a Golden Globe Best Picture film in a visually and acoustically pristine theater (in the Folk Arts Center), 2) attended a musical evening at the local Pelimanni bar that featured both a classical Baroque string duo and local Kaustinen folk music groups (perhaps here commences the debate as to which tradition, classical Baroque or Kaustinen fiddle, has a longer history?), 3) observed and participated in Näppärit, the "pluckers" children's folk music ensemble open to children ages 3-18 at the music high school, and 4) traveled to Lapua, 45 miles south of Kaustinen where I was honored to play with the young Näppärit musicians for a regional Youth Association event. If my Thursday evening plans had panned out to attend the adult Kantele group rehearsal, I would have been so imbued in cultural activities that I wouldn't have spent a single evening at home. Come to find out, belatedly, that there was a musical event Friday night that I didn't even know about! Luckily for me, I'm quite sure there'll be more. In fact, Wednesday this week I'm already double-booked.
So, what is this little roundabout of a town all about? I'd say that so far it's the quietest, most lively place I've ever been. Does that mean Kaustinen has the best of both worlds, so to speak? I suppose this oxymoron might be altered in July, when the population surges from 4,000 to 50,000+ for one week during the 50-year old Kaustinen Folk Music Festival. But for now, I'll enjoy the many cultural happenings spread nicely amongst the quiet moments of the melting snow. And in the meantime, I might try to learn the numbers in Finnish.
Suzanne Wedeking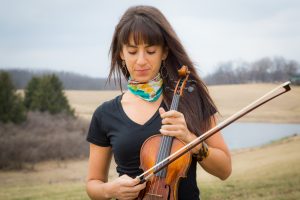 Suzanne Wedeking is currently an Erasmus Mundus research
intern at the Folk Music Institute in Kaustinen, Finland,
under the generous support of the European Union. With this
research project in Kaustinen, Suzanne will complete a
European Joint Master's Degree entitled DYCLAM: Dynamics of
Cultural Landscapes and Heritage Management. Originally from
the United States (Iowa), Suzanne is a violinist by training,
both teacher and performer. Her wide range of musical
interests speaks to her travels across the globe and have led
her here to Kaustinen, an ideal place for her sub-field of
interest within Heritage Studies: Intangible Cultural
Heritage. She is interested in the tradition of Kaustinen
Fiddle Playing, its related musical practices, and how this is
intertwined with current conceptions of what Intangible
Cultural Heritage means for our world today.