Näppärit[1] is a pedagogical method for teaching children music that was founded in Kaustinen, Finland. Its roots go back to the Kaustinen folk music groups for children and young adults that were initiated by Aaro Kentala in the 1970s. Mauno Järvelä took this well-planted seed and nurtured it, ambitious goals no less present on his mind than they are today. Järvelä didn't believe students needed to pass entrance exams, as was the commonplace understanding in Finnish music education circles of the time, to be allowed into the world of music. Instead, he believed that "Music is the birthright of every child." (A quote I fondly recall from Zoltán Kodály)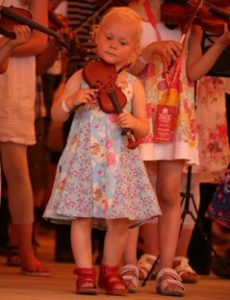 Järvelä believed music would be best understood and undertaken with the goal of practicing it as a hobby—by seeing it as something enjoyable in which everyone could join and share. Musical rehearsals and gatherings should not necessarily, then, be divided up, separating the "better" and the "worse" players. Rather, children who are less advanced, perhaps not yet even playing an instrument, could still join the Näppärit group as singers. In fact, such a diverse blend of ages verged on a multi-generational learning style. Järvelä might argue that this model resembles the master-apprentice approach that was typical during his own childhood in the Kaustinen village of Järvelä (yes, the name of the village also happens to be Mauno's last name—that's another story, for another blog). Järvelä himself picked up his first fiddle only after admiring his father and other older village fiddlers from birth and on through his toddler years. He watched and listened to them with such veneration that by the time he did pick up that fiddle, he just knew what to do. No one had to teach him the tunes. "I just began to play them," he told me, as he played me a few of those earliest tunes, while sitting barefoot in his backyard during a recent interview I conducted with him and his wife, Maarit. If this master-apprentice model offered the younger Näppärit students an environment in which they found strong role models in their older peers, it in turn gave the older students the opportunity to practice their own leadership skills, as they learned what it means to pass along knowledge and share experience with younger peers. This same Näppärit model lives on today.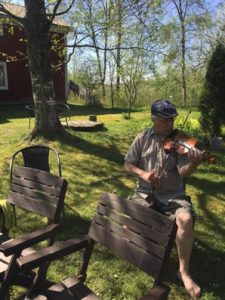 The Kaustinen Folk Music Festival[2] being in Näppärit's "backyard", and vice-versa of course, provided an immediate venue in which those first Näppärit players could share their new-found joy and hobby. The festival offered, similarly, a yearly goal in case motivation ever lagged when it came time for the young musicians to practice at home by themselves. Early on, with these large Näppärit gatherings serving as the archetype, Mauno Järvelä began to receive invitations to hold similar weekend workshops in other towns around Finland. These early Näppärit workshops were held in places with no previous Kaustinen connection—this unassuming phenomenon that was Näppärit was somehow spreading by word of mouth like wildfire, via the Kaustinen Folk Festival Festival audience and eventually the Finnish National Broadcasting Company (that made several documentaries within Näppärit's first decade). And so, in addition to the weekly Näppärit gatherings in Kaustinen for the local kids, Näppärit began to expand its outreach, providing this same undiscriminating nature of musical education not only to a village, but to an entire country of children.[3] These workshops became known as Näppärikurssi.
Next week, Kaustinen will hold its 32ndNäppärikurssi. Näppärit still exists in Kaustinen in its original form, with a group of Kaustinen children meeting weekly throughout the long, dark winter, beckoning those light and lively Kaustinen summers and musical opportunities as they play jolly Kaustinen polkkas and other folk-based tunes from around Finland. The Näppärikurssi takes place in addition to these weekly meetings, though, and is based on those early weekend workshops with which Järvelä began to spread Näppärit values of all-inclusive music education all over the country. So, next week, although those same 30-40 young weekly Näppärit players from Kaustinen will be involved in the Näppärikurssi, they will be joining forces with a few hundred others—a total of 316 children. The population of Kaustinen is just over 4,000 so an extra 316 kids will not go unnoticed (or unheard!). And that's without taking their parents into account. Of course, some aren't traveling too far to attend the week-long workshop. But others may be coming from as far as Helsinki or even Spain, in the case of one Finnish-Spanish family.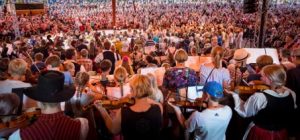 I had the opportunity to travel to Eastern Finland a few weeks ago to assist Mauno and other Näppärit teachers with a Näppärikurssi in Joensuu, Finland. They expected that Näppärikurssi to be big, with around 100 children. The logistics of the Joensuu weekend workshop, which ran Friday evening to Sunday afternoon, were tricky for a group of 100, and that weekend workshop took place in a city of 75,000. This next week, Kaustinen (a tiny village in comparison to Joensuu) will see an increase in population and in musical activity (just when I didn't think it was possible) for five days. This next week also represents the beginning of a new Näppärit year—the Kaustinen Näppärikurssi "sets the stage" so-to-speak for the Näppärikurssi workshops that will happen over the next 12 months. The repertoire the students learn next week in Kaustinen will be used all over Finland until Kaustinen hosts the 33rdannual Kaustinen Näppärikurssi a year from now. But repertoire aside, if I were Mauno, I'd be a bit more worried about the logistics. Notwithstanding my own preoccupations, often having heard him referred to as "a legend" or "the grand old man", the notion of worry doesn't seem to be in that fiddler's bag of tricks. And a magician he just might be.
Are Mauno and the other teachers up to the task? Am I? Recently, Siiri Järvelä mentioned to me that Mauno had quadruple-booked himself during the month of June, with three obligations spread out across Finland and a fourth in Denmark—all within two days. As I turned to him upon hearing this, with a skeptical raise of my left eyebrow, he turned up his grin and said, "No problem!" chuckling to himself. With a record-breaking Napparikurssi registration of over 300 students for next week's workshop, I expect there should be "No problem!" And I wouldn't put a Mauno Järvelä disappearing/reappearing act out of the question, either…!
Suzanne Wedeking
[1]http://www.kansanmusiikki-instituutti.fi/napparit/en/the-nappari-method/
[2]http://kaustinen.net/in-english/program/
[3]Mauno Järvelä: Näppäripedagogiikka